In the lead up to Easter Sunday – if you or your family want spend time learning about Holy Week, here's some crafts & hands-on activities to connect with the Easter Story. Post your images of your crafts & activities on our facebook post!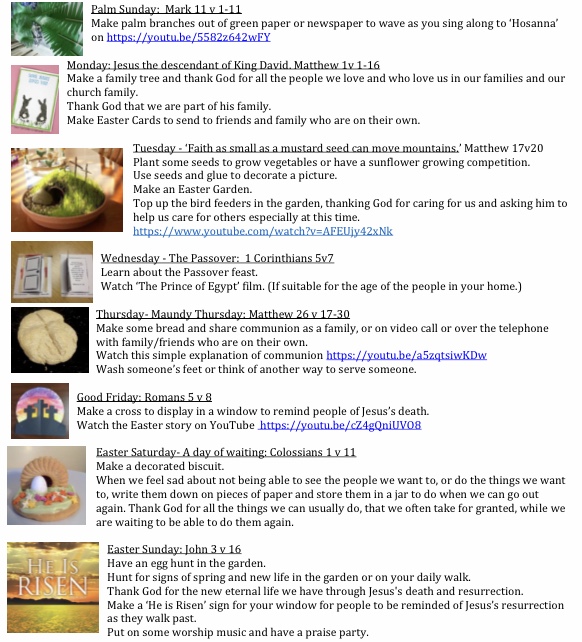 ---
Palm Sunday: Mark 11 v 1-11
Make palm branches out of green paper or newspaper to wave as you sing along to 'Hosanna'
on https://youtu.be/5582z642wFY
Monday: Jesus the descendant of King David. Matthew 1v 1-16
Make a family tree and thank God for all the people we love and who love us in our families and our church family.
Thank God that we are part of his family.
Make Easter Cards to send to friends and family who are on their own.
Tuesday: 'Faith as small as a mustard seed can move mountains.' Matthew 17v20
Plant some seeds to grow vegetables or have a sunflower growing competition.
Use seeds and glue to decorate a picture. Make an Easter Garden.
Top up the bird feeders in the garden, thanking God for caring for us and asking him to help us care for others especially at this time. https://www.youtube.com/watch?v=AFEUjy42xNk
Wednesday: The Passover: 1 Corinthians 5v7
Learn about the Passover feast.
Watch 'The Prince of Egypt' film. (If suitable for the age of the people in your home.)
Thursday: Maundy Thursday: Matthew 26 v 17-30
Make some bread and share communion as a family, or on video call or over the telephone with family/friends who are on their own.
Watch this simple explanation of communion https://youtu.be/a5zqtsiwKDw Wash someone's feet or think of another way to serve someone.
Good Friday: Romans 5 v 8
Make a cross to display in a window to remind people of Jesus's death.
Watch the Easter story on YouTube https://youtu.be/cZ4gQniUVO8
Easter Saturday: A day of waiting: Colossians 1 v 11
Make a decorated biscuit.
When we feel sad about not being able to see the people we want to, or do the things we want to, write them down on pieces of paper and store them in a jar to do when we can go out again. Thank God for all the things we can usually do, that we often take for granted, while we are waiting to be able to do them again.
Easter Sunday: John 3 v 16
Have an egg hunt in the garden.
Hunt for signs of spring and new life in the garden or on your daily walk.
Thank God for the new eternal life we have through Jesus's death and resurrection.
Make a 'He is Risen' sign for your window for people to be reminded of Jesus's resurrection as they walk past.
Put on some worship music and have a praise party using our YouTube playlist: https://www.youtube.com/playlist?list=PL4ZeKHyUS8_TQAQqdAtgYaJYSkY67zStv