We are planning an exciting festival to mark harvest time at Godstone Baptist Church, and we hope you will join us.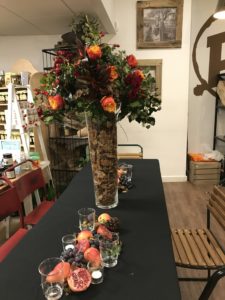 Thursday 27th September: Flower Arranging Demonstration.
7-9pm. Godstone Baptist Church Hall.
We have David, a professional flower decorator, coming to demonstrate how to arrange flowers and fruit to decorate a space. Come and enjoy watching an expert at work.
There is no cost, but we will collect donations for Tearfund. Please invite your friends and family, as we have plenty of space.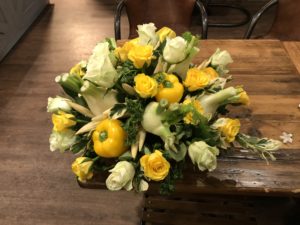 Saturday 29th September: Shared Meal
6pm Godstone Baptist Church
Please book seats by contacting: jogwynne.knight@gmail.com
Seats in the sanctuary will be allocated, with overflow seating in Oasis cafe, so do book early to reserve your seat.
Please bring a dish of food to eat and share. We will sit, in our beautifully decorated space, at laid tables, and share a meal together. It will be a fun time together, remembering what God has done for us, and enjoying being together. Everyone is welcome, so please invite your friends and family.
There is no cost, but we will collect donations for Tearfund.
(Anyone who wishes to donate flowers/fruit/foliage for decorating the church, please bring them from 10am on Saturday 29th.)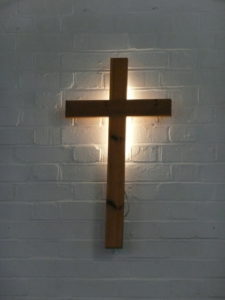 Sunday 30th September: Thank You Service
10:30 am Godstone Baptist Church.
This is the chance for you to come and say thank you for things you have received. As a church, we will be thanking God for the people who have been 'harvested' and are working in other places. The church sanctuary will be beautiful, and we want to fill it with friends, past and present. Please come and be part of this happy time together.
There will be separate activities for children if they don't want to stay in the adult service.
We will collect donations for Tearfund.
***
Which events will you come to? Put the dates in your diary now.
If you need more details, contact Jo Knight, Claudia Hughes, or Anne Todd.
One of the things that we have been given, our harvest, is people. Godstone Baptist Church has previous members working in various places. To help us remember this, to remember that God chooses to use our church to provide workers, we have invited them to come back and celebrate the harvest with us. So several of those families who have recently moved to other places, are coming back for the weekend (which is very exciting!)
Traditionally, this festival was about two things:
1.Remembering (originally it was the Israelites remembering they escaped from Egypt, and later, as the festival coincided with harvest, it was about remembering that God had provided for them.)
2.Thankfulness (the people thanked God for what he had given them).
The festival involved decorating a space, and sharing food with others. They remembered what God had done for them, and gave thanks and made offerings.
We plan to copy these ideas. We hope to decorate our church, making it look beautiful and special. We plan to share a meal together. We will thank God for what he has given us. We will give an offering of money, which will be sent to Tearfund, an aid agency that works with the poorest people in the world. It will be an exciting, special time and lots of fun.
This is what we have planned so far. Plans are gradually evolving, so if you have a good idea, or would like to help, please let us know. We hope everyone will be involved, so plan to come to at least one event, and help us to celebrate.