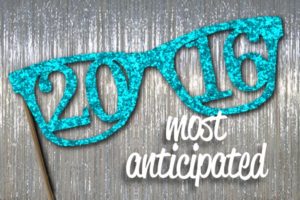 What is on your 'most anticipated' list this year? I suppose it depends what you're passionate about.
If you're a petrol-head, I suppose you're looking forward to the release of the Alpha Romeo Giulia or the return of Clarkson, May and Hamilton in their new series, the 'Grand Tour'.
If you're a bit of a geek (like me) maybe you're anticipating the release of 'Rogue One' at the cinema to rekindle that 'Star Wars magic'. Or maybe you're looking forward to curling up with a good book, like JK Rowling's new release 'Fantastic Beasts and Where to Find Them'.
Anticipation is a wonderful thing, especially the anticipation of children in the run up to Christmas. But in almost every case, the reality never quite lives up to the expectation. The credits roll, the last chapter is read and the car becomes 'familiar' instead of 'exiting'.
2000 years ago, about this time of year, a whole nation was waiting for something. They'd been waiting for a long time. Some were waiting for a king who would restore their fortunes, outshining even the reign of David. Others anticipated a liberator to release them from life under foreign occupation. But a few people, who knew that politics and money invariably leads to disappointment, were waiting for something else entirely. They were waiting for God to 'be with them' in a way that was previously unimaginable.
The season of Advent (from the Latin 'adventus', meaning "coming") is an anticipation of Christ's birth, but it's a bit more than that. In the 6th century, Roman Christians tied advent not to the first coming of Jesus, but to His glorious second coming at the end history.
This season is still so very relevant. In a year of economic and political disappointment, (Brexit & the American presidential campaign), we wait for something else. For someone else. Someone who will again 'be with us' in ways we cannot conceive or imagine.
I heard a loud shout from the throne, saying, "Look, God's home is now among his people! He will live with them, and they will be his people. God himself will be with them. He will wipe every tear from their eyes, and there will be no more death or sorrow or crying or pain. All these things are gone forever."Revelation 21:3-4
Now that's something worth looking forward to! Or, as the apostle John once put it; "Amen, come Lord Jesus" (Revelation 22:20). Happy Advent!
Rev. Phil Hughes.